And we're celebrating in true hot & sweaty style!
Birthday #1 means $1 FLASH SALE
TrainingLife's hottest new transformation for only $1 today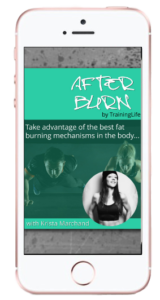 "Get AFTER BURN working for YOU:  Join today for only $1 and see results in your first two weeks!"
Click the button below to instantly join AFTER BURN... $1 TODAY for your two week trial, then just $37 when you love it and want full access!
Privacy Policy: We value your email privacy and never send SPAM.

Cancellation Policy: Email info@traininglifeonline.com within 14 days if you are not 100% satisfied.
Access to SOME dumbbells and resistance bands required!
$1 TRAIL ENDS SOON!
See your results BEFORE you buy! Try my NEWEST transformation with zero risk and super-hot rewards!
-Coach Krista